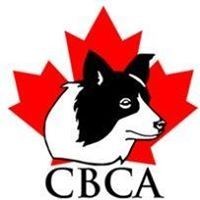 ATTENTION HANDLERS!
Dog and Handler Qualifications for the CBCA Championships:
The two Open qualifying runs at the Championships will be sanctioned USBCHA.
Anyone can participate to a maximum of two dogs.
The top 12 CBCA dogs combined scores will be invited to participate in the CBCA Championships Double Lift Finals on Sunday August 26th. You must be a CBCA member and your dog CBCA registered in order to run in the Double Lift Finals.
CBCA Membership and registration applications MUST be postmarked no later than June 1st, to be eligible for the 2018 Championships. Entries open June 1st.
CBCA Membership and Dog Registration forms are available on the CBCA website: http://canadianbordercollies.org/registration/forms/
Dog and Handler Qualifications for the CBCA Championships and CBCA Nursery Championships:
You must be a CBCA member and your dog CBCA registered.
Dogs are eligible to compete if its third birthday falls on or after July 1 of the year in which the dog will be competing in the CBCA Nursery Championship Trial. Therefore any dog born on or after July 1 2015 is eligible to compete in the 2018 Nursery Finals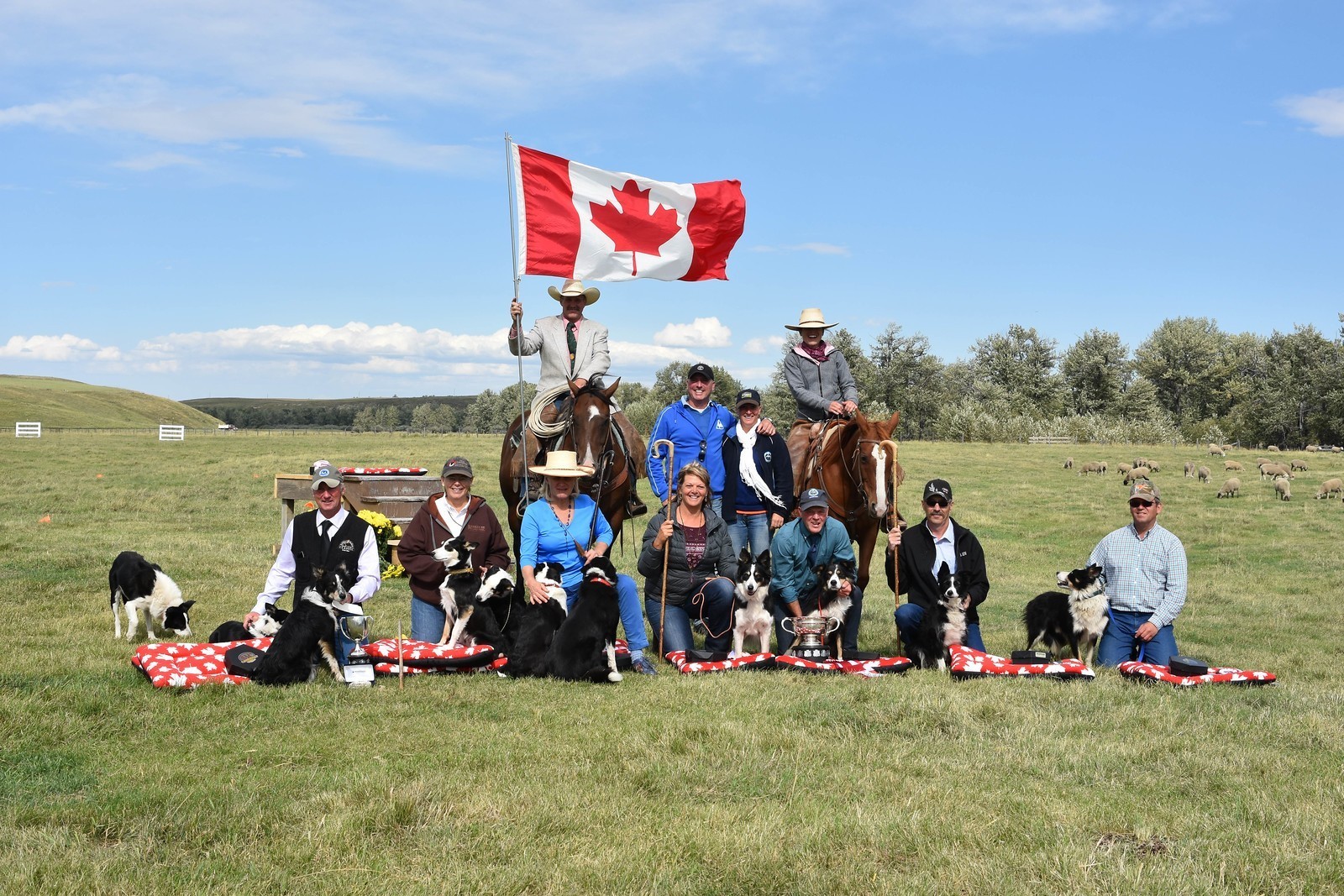 As the CHAMPIONSHIPS approach we will add info to this page.
Trailers for Rent
Ross Creek RV Park
Water and dump east side of Medicine Hat off the trans Canada hwy 2990 54th ST SE.
RV Repairs
Sterling Trailers Repairs (403) 526 0187
Cactus RV 403 526 0088
Veterinarian Service
Animal Medical Centre South 59 East 3rd Avenue, Dunmore
Opens 8 a.m-5:30 pm Mon- Fri Sat 8 am -12:00 Phone: (403) 527-4888
Propane/Costco
2350 Box Springs Blvd NW, Medicine Hat, Phone: (403) 581 5700
Laundry
Scrub A Dub Coin Laundry 36 Strachan Ct SE, Medicine Hat Phone: (403) 526-1544
ATTENTION! ATTENTION HANDLERS!
Wow!!!! we are now up to 92 Open and 16 Nursery dog.
Spectator dogs are not allowed at the Canadian Sheepdog Championships.
Please leave your pets at home.
Schedule of Events
Wednesday August 22, 2018
11:30 am Handlers Meeting
12:00 pm Open Preliminary Runs Dogs 1-30

Thursday Aug 23, 2018
6:30 am Handlers meeting
7:00 am Open Preliminary Runs Continue Dogs 31-92

Friday August 24, 2018
6:30 am Handlers Meeting
7:00 am 1st go Nursery followed by 2nd go Nursery
12:00 pm (approximate time only)Handlers meeting 2nd Open Preliminary Runs begins 1-30
6:30 pm Awards for the Nursery
7:00 pm CBCA Annual Meeting - Remax Tent

Saturday August 25, 2018
6:30 am Handlers meeting
7:00 am 2nd Open Preliminary Runs Continue Dogs 31-92
11:00 am Herding Demo Jill Brodie(demo arena)
1:00 pm Shearing Demo Shaun Fajnor (demo arena)
3:00 pm Herding Demo Jill Brodie (demo arena)
6:00 pm Handlers Supper Remax Tent (tickets only)

Sunday August 26, 2018
8:00 am Opening Ceremony Parade of Qualifying Dog and Handlers
8:30 am Open Double Lift Final, 12 Top Dogs
12:00 pm Herding Demo Jill Brodie(demo arena)1:00 pm Shearing Demo Shaun Fajnor (demo arena)4:00 pm Awards and Closing Ceremony following last run
Welcome Welcome Handlers,
Are you ready for the event? Trial prep is coming together nicely and we are excited to have you here. Just a few house keeping rules to be aware of while you are attending the Canadians Championships.
• Check-in arrival is 3 pm or later on Tuesday, Aug 21st. Please do not arrive before 3 pm as we will not be ready. Upon arrival, check in at the Main Gate
• The "Office" which is Chris Jobe's Komfort 5th wheel trailer is located on the trial field. (See map below)
• If you need to fill your RV with water before arrival or dump your tanks, head over to Ross Creek RV Park on the East side of Medicine Hat just off the Trans Canada Hwy. Address is 2990 54th ST SE.
• No Smoking and No Fires. Due to extremely dry conditions and the extremely high fire risk, there will be absolutely no smoking on the fields and no personal fires/fire pits in the Handlers area. Smoking is restricted to your personal vehicles and RV's only.
• No 4 wheelers/ATVs unless permitted (talk to Chris Jobe). The owner of the property is concerned about the dry conditions and the wear and tear on the hay fields. As we are guests on the property, please respect and be sensitive to the owner's concerns.
• Drive in and out on designated paths only.
• Garbage. There will be a small horse trailer for your disposal of household garbage. (Household garbage only. No chairs, awnings or other related items)
• Pick up after your dogs in the trial field area, as there will be spectators in this area. Not necessary to pick up in the dog walking area. Heads up Mildred sheep are in the field adjacent to the dog walking area.
"Park in-between red flagged areas only.
• Open Handlers' Meeting at 11:30 am on Wednesday, Aug 22nd. First dog to the post at 12:00 noon.
• Dress Code for trial field. No shorts to the post.
• Extra water will be available in handlers' camping area.
• Bring musical instruments if you have them.
• CBCA AGM Meeting will be held on Aug 24th at 7:00 pm. Please bring a chair and a table if you have one.
• Handlers' Supper will be held on Aug 25th at 6:00 pm in the Handler's parking area. Please bring a chair and a table if you have one. • If you need a Handler's Supper ticket please check in with Chris Jobe at her Comfort trailer before August 24th.
• Quilt Tickets. If you have any quilt tickets, please bring them to Chris Jobe. Hopefully you have them all sold LOL!
• Prairie Chuckwagon will be on site from Aug 22 -26. Breakfast and lunch items available.
• Gypsy Girl Pizza and the Ice Cream Truck will be on site on Saturday, Aug 25th.
• 12-34 Cafe & Pub in Elkwater is a Major Sponsor. If you are looking for a place to go for dinner, take a 20 min drive into the Cypress Hills and check out the lake town and please stop by the 12 -34 Cafe & Pub. Let them know how much their support means to the trial.
• If you have trophy from the 2017 Championship please give it to Chris Jobe ASAP so she can polish them up.
• Hospitality Table is located under the Remax Tent- Water, coffee and snacks will be available
Snakes (Prairie Rattlesnake): Yes We have snakes in the area. It is really quite rare to see them on the property.
Habitats/Behaviours of Local Prairie Rattlesnake Because it is cold blooded, the prairie rattlesnake's body temperature is affected by its surroundings. During the winter it hibernates in caves and in the burrows of other animals. In the cool spring and fall weather the rattlesnake hunts in the daytime, while the hotter summer days force it to hunt at night. The prairie rattlesnake is not aggressive and will usually flee if given the chance.
Rattlesnake bites in dogs. The best thing to do is to bring the dog into a Veterinarian immediately for Antibiotics and Anti-inflammatory medications. The sooner we can start these medications the better, some dogs may also require IV fluids depending on how they are doing. We do not recommend any ice packing, heat packing, tourniquets or squeezing poison out of the wounds. Most dogs do quite well with just the antibiotics and anti-inflammatory medications. However they will be unable to compete in dog trials for 10-14 days afterwards. In comparison the rattlesnakes we see in our area have a fairly weak venom compared to rattlesnakes found in the southern states.