Welcome to our Puppy Page!
My main goal in selecting Border Collies is temperament and working ability. Parents are selected for a balance of both of these traits. Here you will find information on my upcoming litters. All of the pups are sold with full breeding rights to you! All will be vaccinated, dewormed regularly, microchipped and registered with the Canadian Border Collie Association. My services include assessing your needs and finding the right puppy or dog for your situation as well as helping you raise a great Border Collie.
The price for a registered (CBCA) puppy is $1200.00. A deposit of $250.00 will get you on the list to hold your puppy.
Most of the pups are sold as working dogs, but they are also popular as obedience, agility, and companion dogs.

All puppies have a health guarantee. Shipping arrangements can be made for anywhere in country for a nominal cost.
Reese abca # 16130 is 2yr old. This video show him working on distance on the outrun and drive. He is an outgoing happy dog. Loves to work. He is qualified to run in the Nursery Class at the Canadian Sheepdog Championships in Airdire AB and in the USBCHA Finial in Colorado this fall.
CS Raine abca #11260 is a 4 1/2 yr old. Unfortunately she broke her leg when she was two. She is a great outrun, natural fetch and is a very good listener. She will try anything that I ask. I use her for small jobs on the ranch.
CS Lyrics is 14 months old a daughter of CS Raine. She has a great desire to please, and always wants to be correct in her method on the sheep.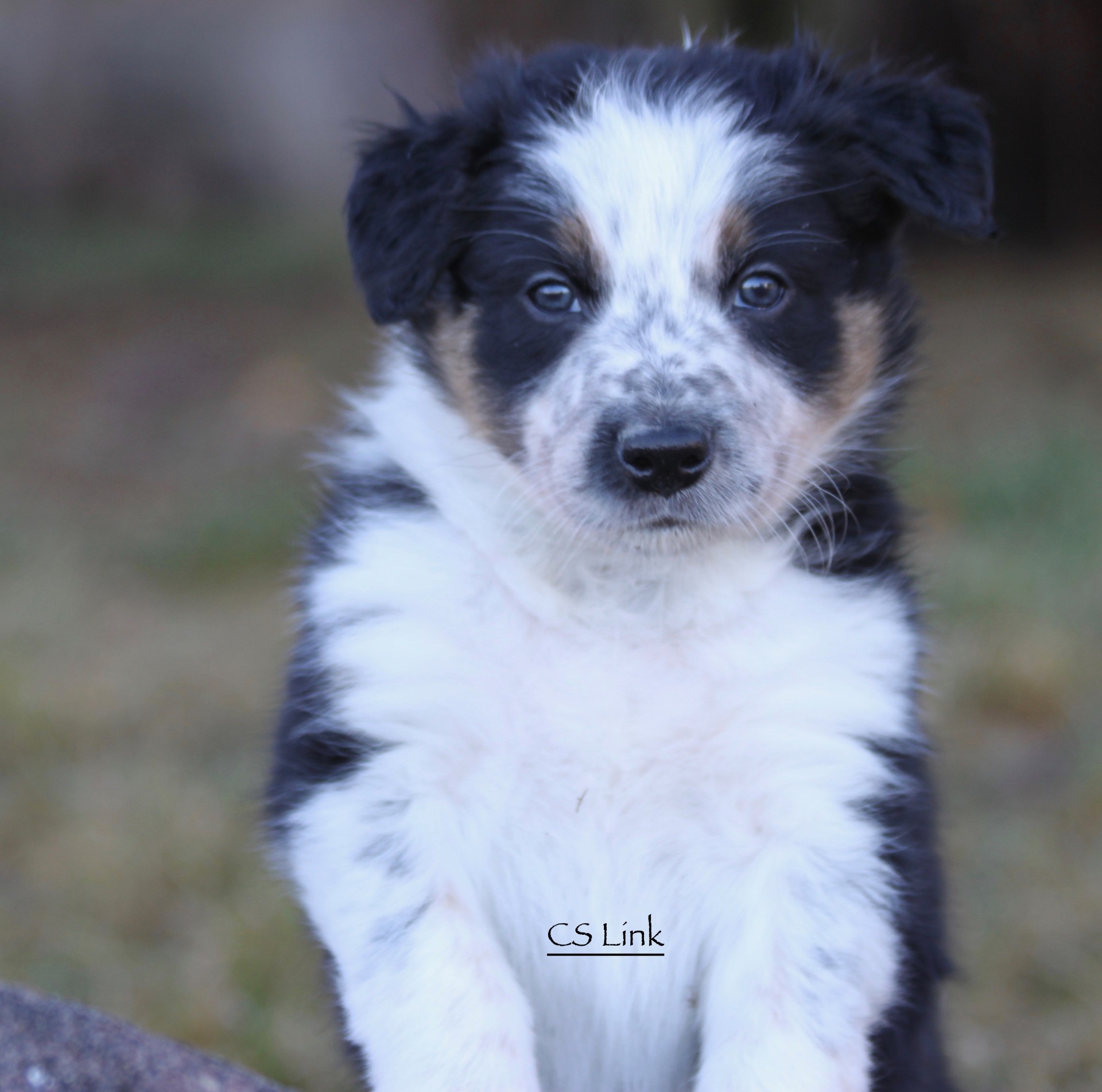 I was looking for a border collie puppy from a working background because our life style is very active and we needed a pup with stamina. I also feel working dogs are smarter since they are primarily bred to work. There are puppy mills out there that say their pups are from working dogs so I was quite careful. I was fortunate to locate Chris Jobe and her business Canine Solutions since she not only trains her own dogs but uses them in her business. It was also important that her dogs are genetically clean so the collie eye anomaly would not be an issue. We reserved a puppy and named him Link. He was introduced to people, including children before we picked him up at eight weeks of age. As it turned out he was well acclimatized to people and very friendly. This was important since we live in the city of Calgary so interactions with people happen every day. As well we have a trampoline that the neighbourhood children come to play on daily and Link plays well with them.
Link has met or exceeded all our expectations. At Link's one year checkup our veterinarian said Link turned out well because most dogs do not hit all the important check boxes; these being brains, looks and personality, especially for a papered animal. Thanks, Chris
,...Frank Lee
Puppies due for Oct 10 2019
Puppies due for Oct 8 2019
IMP. TAFF abc#457409 is a rough coat black and white male who was born on August 20, 2015 Taff is an Irish import out of Michael Gallagher's Chip and J.M. McCloskey's Sweep. He is a grandson of English National Champion, Killibrae Laddie and a great grandson of International Champion Gallagher's Cap .
CS Becca abca # 11266 Tri color smooth coat female. Becca is a great all around bitch. Handle livestock with confidence. Great team player with lots of stamina. She is one of my main trial dogs. With the few trail we get to she places in the top five.
This litter is CEA clear by parentage.